Sugar Maple Charcoal by Basques
This bag of wood charcoal is available in a 4-kg and 8-kg format.
4-kg
The 4-kg bag was developed in the 1980s. This bag was designed to be used in the rotisseries in Chalet Suisse restaurants. At the time, the restaurant chain purchased a significant portion of all the charcoal produced in Quebec. Imagine! Since then, this bag has mainly been sold on food markets.
Ask for it at your grocery store, hardware store or specialty barbecue store.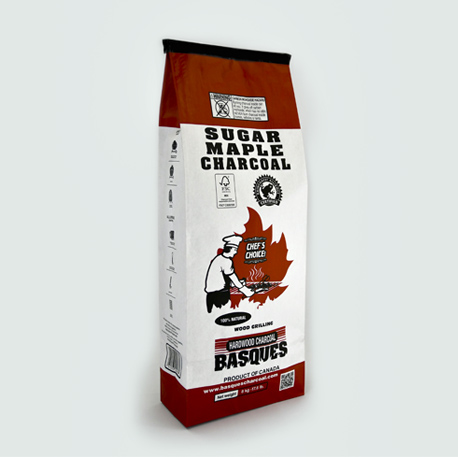 8-kg
The red 8-kg bag is a recent addition to our charcoal range. It was developed in response to demand from a major hardware chain. Mainly available in Ontario and the US, our regular customers choose this product for its large size.
IMPORTANT NOTICE
Please note that because of labelling requirements by California Proposition 65, our products are currently not sold or distributed in the State of California.
WHERE TO FIND OUR CHARCOAL?